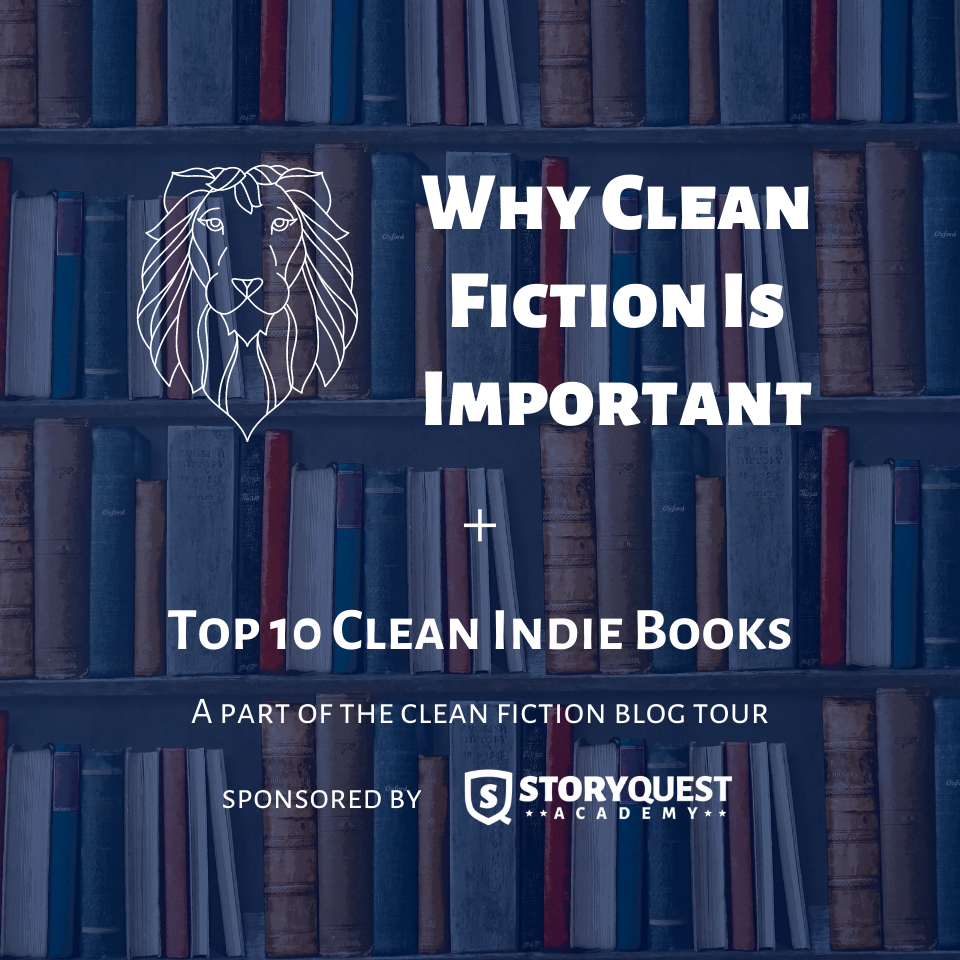 Before getting into why clean fiction is important, let's talk about what it is.  Clean fiction doesn't have strong profanity, graphic violence, or explicit sex scenes. The biggest difference is that while these stories can tackle intense topics, they don't go into the details. If they include intense topics, the stories often focus on dealing with the negative effects instead.
So why is it important? The reason why I think clean stories are important for kids and young adults is because clean stories allow for more focus on the plot, character development, world-building, friendship, adventure, family, imagination, and making the world a better place. Clean stories tend to have more positive role models and can teach important lessons. I prefer to the term wholesome when referring to these stories, because it doesn't imply that any stories that aren't wholesome are bad by any means.
I've been shopping for books for four teenagers for many years, and it was a struggle to read through all the options to find something they would like. Once I focused on indie published books I found a wealth of wholesome stories to enrich their imagination.
I have seen a good deal of homeschooling parents looking for clean and wholesome stories for their kids and young adults to read. The indie community has so much to offer! This month, we are partnering with indie authors, bloggers and other homeschooling parents to share books, interviews, and discuss why clean fiction is important.
When I started Story Quest Academy, I knew I wanted to focus on clean and wholesome books. It is important to read the classics because these cultural touchstones are still influencing the stories we tell today. It is equally important for young writers to read indie books to understand the trends, tones, and types of stories that people are telling in the modern era. 
Here are ten recommendations for clean and wholesome indie books for middle grade and young adult readers from Story Quest Academy. We earn commissions if you shop through the links below.

Ages: Middle grade with all age appeal
Malenie found the perfect place to hide from the world. No one else sees the endless Wall that stretches across the desert, and when Melanie is in the shadow of its magic, she becomes invisible. Bullies can't torment her. Her ex-best friend can't ignore her. And her beloved Papa doesn't worry about the secret that puts her life in danger...

When a stranger comes to town and abducts Papa, Malenie is thrust into a dangerous quest to save him. She learns that the Wall holds secrets that will bring her in touch with her ancestral magic, bind her to new friends and old enemies, and force her to confront a deadly villain. To save Papa, she will have to learn to use the mysterious magic that is inscribed on her very skin.

Ages: Middle grade with all age appeal
"Normal" means different things to different people. For sixteen-year-old Sadie Larcen, family dynamics look a little different than most. Parents with oddball occupations? Normal. Five homeschooled siblings--one with autism? Normal. Police knocking on the door and parents gone missing? Definitely not normal!

When Sadie uncovers the reasons behind her parents' disappearance and the truth about her heritage, she despairs of ever feeling normal again. Especially when she learns that her mother's interest in Bigfoot, Dwarves, and other lore extends beyond her popular blog. Sadie's family has been entrusted with keeping the secrets of the Tethered World--home to creatures that once roamed the Garden of Eden.
Sadie and her siblings must venture into this land to rescue their parents. Stepping out of reality and into a world she never knew existed is a journey Sadie fears and resents. But she chooses to risk all to save her family. She's just not sure she will survive in the process.

Ages: Young Adult 13+
One person knows of the plot against the royal family and cares enough to try to stop it -- the servant girl they banished.

Leah spends her days scrubbing floors, polishing silver, and meekly curtsying to nobility. Nothing distinguishes her from the other commoners serving at the palace, except her red hair and her secret friendship with Rafe, the Crown Prince of Imperia. But Leah's safe, ordinary world begins to splinter. Unexpected feelings for Rafe surface just as his parents announce his betrothal to a foreign princess. Then she unearths a plot to overthrow the royal family. Her life shatters completely when the queen banishes her for treason.

Harbored by a mysterious group of nuns, Leah must secure Rafe's safety before it's too late. But her quest reveals a villain far more sinister than an ambitious nobleman with his eye on the throne. Can a common maidservant summon the courage to fight for her dearest friend?

Book Club Selection For Adventure Quest

Ages: Young Adult 13+
London. 1789. More than anything in the world, Wendy Darling wants to be the captain of a ship, but women aren't allowed in the Royal Navy. When she learns the Home Office is accepting a handful of women into its ranks, she jumps at the chance, joining the fight against the most formidable threat England has ever faced. Magic.

But the secret service isn't exactly what she hoped. Accompanied by a reimagined cast of the original Peter Pan, Wendy soon discovers that her dreams are as far away as ever, that choosing sides isn't as simple as she thought, and that the only man who isn't blinded by her gender might be the worst friend anyone could ask for.

Anyone, that is, except Wendy Darling. 

Ages: Young Adult 13+
A quest for fame and fortune in a stardust-powered empire brings debt, scandal, and danger in spades. The Electrical Menagerie, one-of-a-kind robotic roadshow, is bankrupt. Sylvester Carthage, illusionist and engineer, has the eccentric imagination the Menagerie needs to succeed creatively -- but none of the people skills. Fast-talking Arbrook Huxley, meanwhile, has all the savvy the Menagerie needs to succeed commercially -- but none of the scruples.

To save their show, Carthage & Huxley stake everything in a royal talent competition, vying for the once-in-a-lifetime chance to perform for the Future Celestial Queen. In this stardust-and-spark-powered empire of floating islands and flying trains, the Menagerie's bid at fame and fortune means weathering the glamorous and cutthroat world of critics, high society, and rival magicians -- but with real conspiracy lurking beneath tabloid controversy, there's more at stake in this contest than the prize.

Behind the glittery haze of flash paper and mirrors, every competitor has something to hide... and it's the lies Carthage & Huxley tell each other that may cost them everything.

Ages: Young Adult 14+. The ancient enemy could be scary to younger readers.
Sixteen-year-old Kiva Fariq has always dreamed of soaring on the four-winged raptors that scour the desert skies. But the windwalker sect is closed off to women. What's more, it's said the deadly predators can only be bonded by men.

Undeterred, Kiva attempts the deadly windwalker trials in secret. Should she survive, she will face an even greater challenge: bonding a raptor of her own. When signs of an ancient enemy appear upon the plains, she desires more than ever to protect her people. But the threat is closer than anyone realizes, and will soon bury them all in a tomb of sand and stone--unless she can stop it.

Ages: Young Adult 14+. The body swapping and age limit could be scary to a younger reader.
Some pilots follow orders. Others just wing it.

Grounded for her Top Gun attitude, a Mars colony pilot jumps at the chance to fly a covert mission to off-limits Earth and save her world from starvation. On Earth, the Chancellor keeps a dystopian peace through a competitive consciousness-transfer program, offering perfect bodies to those who toe the line. Pilot Jessamyn's orders are simple: get the food and get out, minimizing contact. But when the pilot's brilliant autistic brother is captured and charged with treason, all bets are off. Jess finds an ally in Pavel, the Chancellor's rebel nephew, but now she's got a choice to make: rescue her brother or save Mars?

Ages: Middle grade with all ages appeal. Brendan's dad gets kidnapped and threatened. 
Did you see the guy in the video wearing the purple tights and mask robbing that bank?

That's Brendan's dad. He's a supervillain. The law is after him. The internet loves him. Brendan wishes they weren't related. Fortunately a scholarship fell into his lap to an exclusive private high school across the country in California. The chance of a lifetime. The teachers are attentive and Brendan is making new friends, but Dutchman Springs Academy has its own mysteries.

A girl keeps showing up in his electronics lab who can vanish at will, the phone and internet keep going out, and Brendan believes the Headmaster of the school is conducting secret experiments on the students. Set in a world where a superhero mania has gripped the nation and otherwise normal individuals don masks and take to the streets to fight one another, Supervillain High follows a boy trying hard to navigate a new school while keeping his relationship with his villain father a secret.
But can he resist the temptation of real superpowers when he begins to unravel an otherworldly threat to the safety of the school?

Ages: Young adult with all ages appeal
Hoping to free his father from an unjust imprisonment, Druet the blacksmith sets out on a quest that will solve an ancient riddle and crown a man as Arcrea's first king. A host of memorable characters join Druet on his mission of justice, but opposition quickly rises to test their level of commitment and their faith in God. Will the dangerous wilds of Arcrea and her seven oppressive lords succeed in bringing an end to Druet's quest and crush forever the kingdom's hopes for a just king?

Ages: Young Adult 13+ There is a scene where Alyssa is trapped in a closet and gets injured which might scare younger readers.
One dark and stormy night, lost and alone, Alyssa finds herself knocking on the door of a castle. After a lifetime spent in the deep forest, Alyssa has no idea what to expect on the other side.

What she finds is two unruly young princesses and one very handsome prince. When Alyssa accepts the job of Princess Companion she knows her life will change. What she doesn't know is that the royal family is about to be swept up in unexpected danger and intrigue and that she just might be the only thing standing between her kingdom and destruction.

This retelling of the classic fairy tale, The Princess and the Pea, reimagines the risks and rewards that come when one royal family goes searching for a true princess.
Have you read any of these books? What books are you going to add to your reading list? COMMENT BELOW!
Be sure to comment and share each post to be entered to win our prize pack filled with ebooks and a scholarship to Story Quest Academy! Tag us at @StoryQuesters so we can see each of your entries.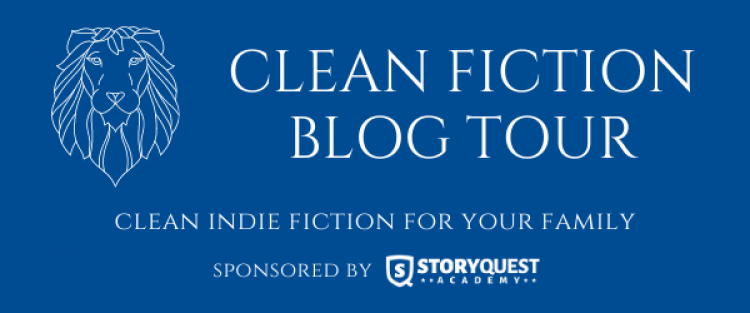 Just visit each blog on the schedule to get great content!
March 1st    Story Quest Academy - Why Clean Fiction Is Important + Top 10 Clean Indie Books
March 2nd    Ellie Naomi - Why I Write and Love Clean Fiction + Hannah Anderson Mysteries
March 3rd    Julie C. Gilbert - Many Flavors of Kid-Friendly Clean Reads
March 4th    Jasmine Natasha - Author Interview with Laurie Lucking
March 5th    Liz Delton - The Alchemyst's Mirror
March 6th    Mark Hansen - Why We Love Fantasy
March 7th    Ian Vroon - Ayphae • A World Beyond Your Imagination
March 8th    Story Quest Academy - Author Interview: Erin Michelle Sky and Steven Brown
March 9th    Nicholas Kotar - Two Excellent Pirate Books Set in Gorgeous Fantasy Worlds
March 10th    J.M. Hackman - Spark: Firestarting & Neurodiversity
March 11th    Mark Hansen - Excerpt from A Tale Of Heroes
March 12th    Courtenay Kasper - Why I Write Clean Fiction + West & Windy Book
March 13th    Debbie Schreffler - Excerpt from A Farmer's Wife: A Biblical Retelling of Ruth
March 14th    Story Quest Academy - Author Interview: Mollie E. Reeder
March 15th    Steven Guglich - Why I Write Clean Fiction
March 16th    Laurie Lucking - A Story Snippet from Traitor!
March 17th    Julie Gilbert - Clean Fiction Audiobooks
March 18th    Meg Dendler - Middle Grade and YA Clean Fiction
March 19th    Story Quest Academy - Interview with Nicholas Kotar
March 20th   Courtenay Kasper - Clean Fiction Books I Love
March 22nd   Molly Casperson - Clean Fiction Blog Tour: Why Clean?
March 23rd    D.J. Edwardson - The Last Motley: Behind the pages
March 24th    Marty C Lee - YA Fantasy with Princesses, Dragons, or Magic
March 25th    Molly Casperson - Keepers of Fire: Book One of Fire City
March 28th    Story Quest Academy - Interview with Heather Love Fitzgerald
March 29th    Debbie Schreffler - Clean Fiction Books I Love
March 31st    Molly Casperson - Clean Fantasy Author: Jeff Wheeler