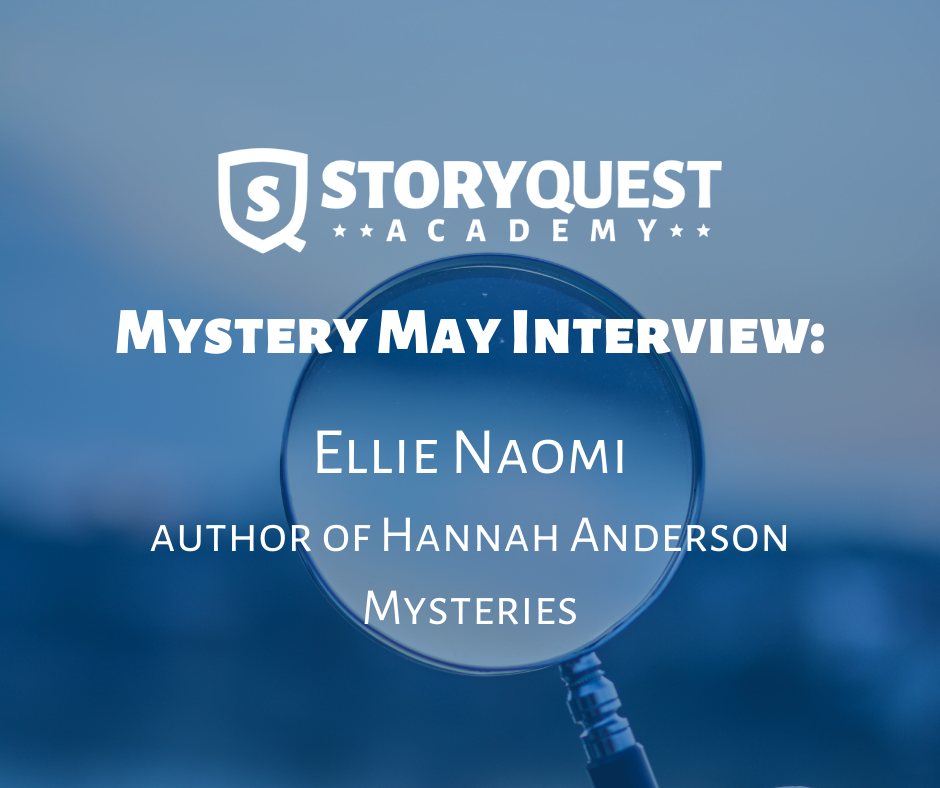 Interview with the author, Ellie Naomi


Welcome to the third week of Mystery May! Today we are talking with Ellie Naomi, author of the Hannah Anderson Mysteries and one of the instructors at Story Quest Academy. 
Q: Who are you? What genres do you like to write?
A: I'm Ellie Naomi, I am the author of the Cozy Mystery Web Story The Hannah Anderson Mysteries. I also write Sci Fi, Fantasy, and Comedy with a little romance sprinkled in.
Q: Tell us about your Web Story The Hannah Anderson Mysteries
A: The Hannah Anderson Mysteries is set in the city of New Ashens, where high-tech gear is discussed over coffee and superheroes like Larry Defender Of The Stars deliver pizza.
While solving many different unqiue cases, retro loving private detective Hannah finds herself going up against the spy-ring known as The Sliver Coin in order to solve the truth behind the murder of her closest friend. 
Q: Who is your favorite character in your book?
A: I think my favorite character in the first story is Hannah Anderson herself. It can often get funny when she says everything she thinks without realizing the consequences of her honest words. Something readers will see more in chapter two is Hannah's socially awkward personality, how frugal she is and how that leads her detective style.
Q: Why do you like to write Cozy Mysteries?
A: I have always loved reading mysteries and trying to figure out the different clues like a sleuth myself. You could say this is what inspired me to start writing them. One thing I like about writing Cozy Mysteries is making a case that my readers can try to solve like I've always loved doing.
Q: What is your biggest tip for teen writers?
A: I have two actually. The first one being it is never too early to start writing and doing your dream.
I also have seen a lot of people say they can't write full time and decide to give up. As a writer with a full-time job, I can say for sure that you can do both a job and pursue your dreams. Don't worry, start dreaming and start writing.
Q: What do you do to get inspired?
A: I do a lot of different things, but my two favorites at the moment is to listen to music, read and analyze the lyrics. This is especially helpful when the song meaning fits for your story.
This second one is just such a classic (I think Amelia talked about it before) and that is taking a walk.
Her article here is pretty similar to my process when I take a walk to inspire myself. You can read it here! 
Q: What is your favorite thing about writing?
A: This is a hard question as I love just about everything about writing, but If I had to choose one I think It'd be creating my own story universes (or world/character building). Most of my stories are set in the same universe (like Marvel) and I adore making new stories and characters to fill my fictional world.
Q: What is your favorite Cozy Mystery book?
A: My all-time favorite is for sure is Behind the Green Door in the Penny Parker series. Penny is such a good chartacter and as you read you often find yourself in her shoes.
Q: When did you know you wanted to be a writer?
A: I have been making stories as long as I can remember and had always dreamed of being an author. From taking the National Novel Writing Month challenge to now publishing my own stories, I can and will say thousand times is that it's never too early to start writing. 
I strongly believe that no matter what your writing level is right now with just a little help you can make the novels and stories your heart desires. I think that is something I love about Story Quest Academy and am so honored to be part of the team. 
Q: Is there anything else you would like to say before we finish?
A: First I want to thank Story Quest Academy for hosting Mystery May. Please be sure to check out Mystery Quest so you can learn how to make your own mystery stories and do all the fun side quests included.
I hope to you see you over at my blog EllieNaomi.com to solve The Hannah Anderson Mysteries like a real sleuth! I will be soon publishing the next chapter of Only A Matter Of Crime in The Hannah Anderson Mysteries as well as some short stories so be sure to sign up for my newsletter.
Be sure to comment below for a chance to win a Story Quest Academy scholarship for Adventure Quest!