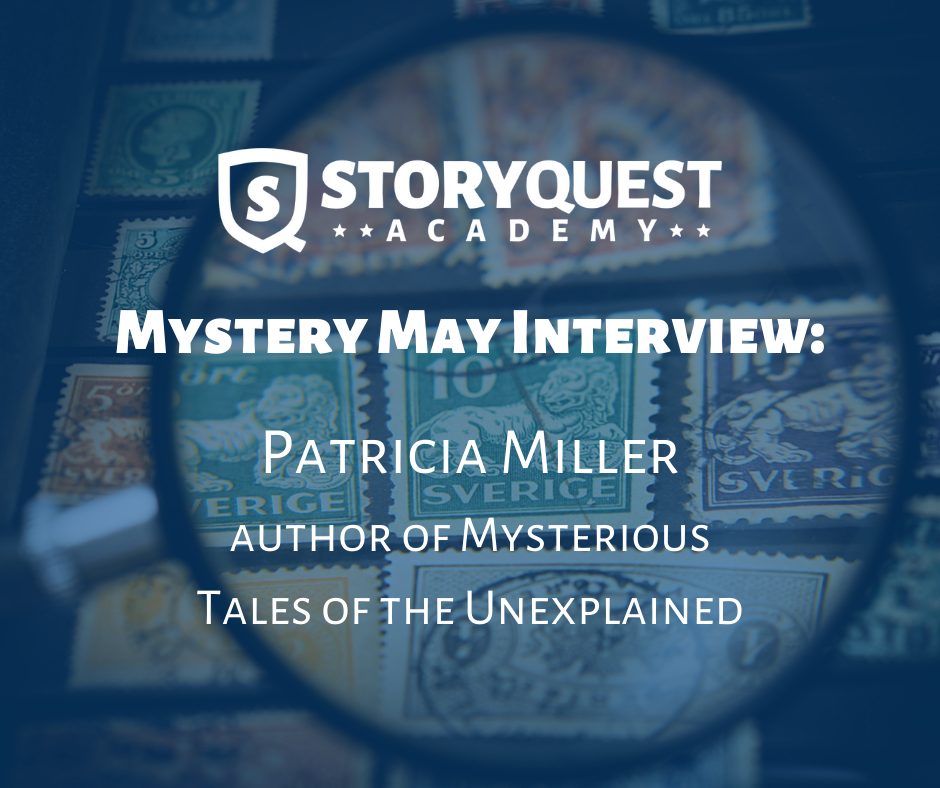 Welcome to Mystery May! Each week, we will be interviewing Mystery authors of middle grade and young adult books. Today we are talking with Patricia Miller, author of Mysterious Tales of the Unexplained, Volume 1.
Who are you? What genres do you write?
I am Patricia Miller. Mystery is my favorite genre to read and to write. But, I also write in the sci fi, paranormal and magic realism genres. I am also a mental health clinical counselor supervisor and have an idea for a children's picture book on Mindfulness.
Tell us about your book Mysterious Tales of the Unexplained, Volume 1
Well, this book consists of 4 separate mysteries: a novella and 3 short stories. These are among the very first stories I have ever written after I decided to start writing seriously. After I published books 1 and 2 in my young adult, sci fi, romance trilogy, I was missing the mystery genre and so I decided to pull these out of the drawer, dust them off and give them life. About 6 weeks to 2 months before I completed my final edits, I got the idea to see if there were any local high school artists who might like to try their hand at sketching some scenes as I already had a sketch I had purchased from a 12 year-old (way back when I was writing the stories) to use on the cover. Many sketches were submitted, and I chose 9 to be used throughout the book and on the back cover.
Who is your favorite character in your book?
I had a lot of fun with Viola Crenshaw but I would have to saw my favorite is Kelsie Raymond. Kelsie is an amateur sleuth in 2 of the 4 stories. I like her as a protagonist because she is sweet and smart yet able to be gritty and tough when she needs to be. She will age a little and re-appear in a cozy mystery series that I am currently writing.
Why do you like to write cozy mysteries?
Technically, Mysterious Tales of the Unexplained is not a cozy mystery. It's a mystery collection because it has more than one story in it. But, an author friend who read this book told me that each of the stories felt "like a cozy mystery" and suggested I try my hand at writing a cozy mystery series. I like mysteries of all kinds however the reason I like cozies is because they are a fun, easy read. They aren't exceptionally scary yet they have that who-done-it or mystery to solve quality about them that I just absolutely love.
What is your biggest tip for teen writers?
Keep a small notebook or journal just for book or scene ideas. (I also keep one by my bed. If it weren't for it, I wouldn't have remembered the dream that inspired book one in my sci fi trilogy.) Make sure all your ideas get into this book. If you are away from that book and get a great idea, jot a note about it in the "notes" section of your phone until you can get it in your idea notebook. Once you decide which idea to go with, write out a very vague outline of what you expect will happen in the book and where it will go and then start writing. If you find along the way that you wish to go back and make some changes or additions, jot yourself a note about it and keep writing. If you stop writing you might miss out on the flow of your story. Later on, go back and make those changes or additions as you will always have to go back and edit anyways.
What do you do to get inspired?
Inspiration can come from anywhere. Pretty much wherever I go, whatever I do, I'm asking myself if there is a story or scene idea here. One time, I was out listening to a friend's band play. I noticed there was a large glass wall behind them, with an office with a small window behind that. I won't share my idea as I plan to flesh it out in the next Volume of Mysterious Tales of the Unexplained, but let's just say, I could picture a mystery scene there. My husband and I go away on hiking/biking weekends and like to stay in very interesting inns. I get a lot of inspiration when I am away on these trips. The architecture of the places we stay often give me ideas.
What is your favorite thing about writing?
I think my favorite thing about writing is that anything I want to happen in the story can happen. It's my story. I develop the characters and setting. I choose the plot, and it goes where I want it to go. Sometimes I write myself into a corner and sometimes I end up changing things but in the end, it's my story.
What is your favorite cozy mystery book?
Well, since Agatha Christie is my all-time favorite author I would have to say her Miss Marple murder mystery series is my favorite cozy. However, I also like Ellen Elizabeth Hunter's Magnolia Mystery series. I have also discovered Harper Lin's Bookish Café Mysteries and Sam Cheevers also has her Silver Hills Cozy Mystery Series. There are a lot of great one's out there.
When did you know you wanted to be a writer? What was a big challenge you overcame to become the writer you are today?
I didn't decide to pursue writing till age 40. Up until that time I was an avid reader. Right about that time, I remember reading a book and thinking to myself, "It would have been really great if they would have…" I decided then that maybe it was time to write. I started with short stories.
The biggest challenge I have had to overcome is nerves when having to speak or be interviewed either in person, on the radio or zoom. I recently achieved a big goal which was to get into a very big book fest in my state. (Took me 3 years of applying to get in.) Anyways, not only did I get in but I was asked to speak on an author panel with 4 other speculative fiction authors. One of them was one of my author heros from back in the early 2000's and since I get so nervous, my first thought was to graciously decline. I had pushed myself to be on the radio and speak at other events so I decided this was too much of an honor to decline. I asked what questions might be asked and I gave lots of thought to what my answers might be. Because I prepared, I was very pleased with how I did, even though my knees were knocking the whole time. LOL
Is there anything else you would like to say before we finish?
If you like to write, then write. Many times we are encouraged into considering other professions because there is a greater chance of having a regular pay check. We all have to pay the bills. Here's what I say about that. It takes a lot of time and work to become established as a writer so I think it's a good idea to have a job or career (also that you like) to depend on. But, make time to regularly read and write! I am about 3 years away from semi-retirement. I plan to step up my writing even more then. Once I decided to seriously write, I decided to treat it as a second job…one that I absolutely love. If you are lucky enough to write as a main career, go for it. If you aren't, it doesn't mean you can't still write after your work day or on the weekends.
Lastly, I want to thank you for inviting me to interview. I would have loved to have positive writing influences such as this when I was young.
Write what you love. Love what you write!
Patricia Miller https://www.facebook.com/patriciamillerauthor