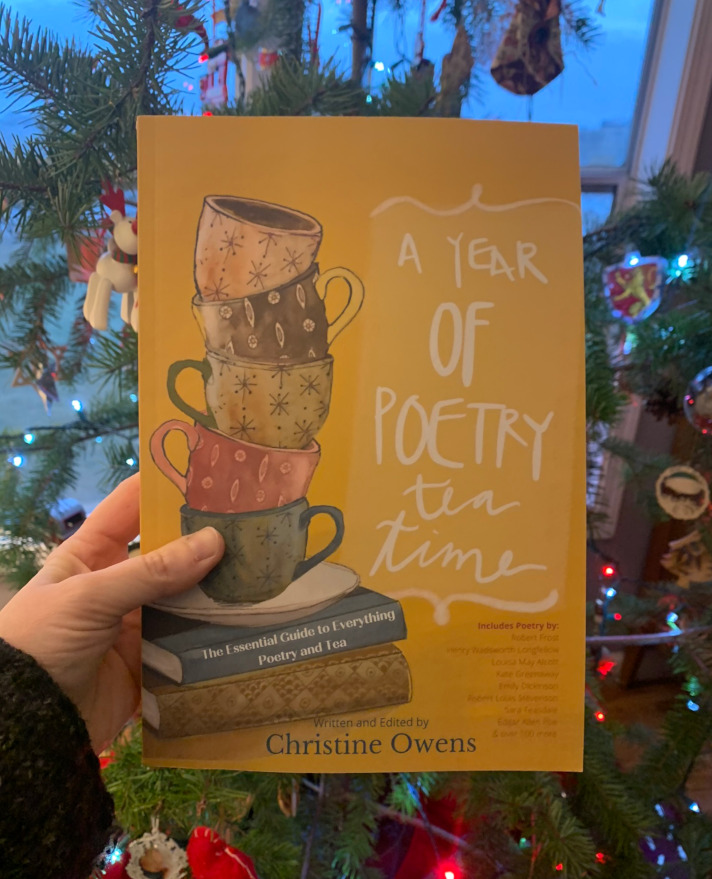 The Essential Guide to Everything Poetry and Tea


A Year of Poetry Tea Time: The Essential Guide to Everything Poetry and Tea is a delightful book created to provide a resource for parents who wanted to share and learn about poetry with their children.
With 300+ poems, poet bios, 270 vocabulary words, activity and field trip ideas, tea history and a guide to hosting your own poetry tea party, you almost don't need the internet. It's perfect for those who want their children to see the value of books and fall in love with poetry. All while expanding their vocabulary and developing their critical thinking skills.
I was lucky enough to have a chance to chat with the author behind this awesome homeschool resource!
Q: What was the inspiration for this book?
A: I have been doing poetry tea times for years with my kids. I got tired of pulling out a book of poetry, reading a poem by a popular poet, and find that its meaning was so cryptic that it left us feeling underwhelmed. Also, spending time reading through pages and pages of books and only finding a couple that seemed appropriate for my kids. I wanted one book with a huge collection of poetry that I could turn to and just open it to any page and start reading.  
Q: Why is poetry important for kids to read?
A: Kids can learn so much from poetry. With 270 words in the glossary, you know they will develop a vocabulary with a lot of depth. Being told what a word means compared to hearing it used within.  They learn to think critically as they think and ponder. Some poetry is pretty straightforward, but many like to challenge the reader and prompts one to pick it apart for its deeper meaning. 
Q: Why did you pair poetry and tea time?
A: The idea of poetry and tea has become a new thing in the homeschooling world. It's been around for years, but its popularity has really taken off in the past couple years. I started doing it with my boys about 5 years ago. That's how I started to realize that there wasn't really an awesome go to place for a large collection of devirse poetry. Sure, there is Robert Louis Stevenson and A. A. Milne, but when I wanted to share poetry from others, I would purchase a book and find that only 2-3 poems where appropriate or comprehensible for young minds or those who are just starting to dabble with poetry.
Q: What kind of activities are included?
A: There are over 50 suggested activities that are related to specific poems. I tried to be devirse every month and include cooking, science, crafts, learning about different styles of poetry, how to write some of them and more. 
Q: What is your favorite poem and why?
A: I would say my favorite poem is If by Kipling. I read it for the first time at the Gerald Ford Museum in Ann Arbor, Michigan. His mother would read it to him and had him commit it to memory because he had a hot temper. Being a mother of 3 boys, it stuck with me. It's a poem that we could all live by.
Thank you for chatting with me, Christine! We earn commissions if you shop through this link. Click here to get your copy of the book!
Christine Owens has worked 14 years in various fields and grades in education as well as homeschooled her children for the past 10 years. She is also the author of Relaxed Homeschooling and the owner of Little Rabbit Trails and the founder of the international Homeschooling Poetry Contest. She loves to help people see that home education can be done in more than one way. She also enjoys creating valuable resources that will help parents educate their children in a less stressful and enjoyable way. www.littlerabbittrails.com and www.ayearofpoetryteatime.com